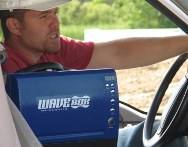 This site does not talk enough about the great new gadgets and technologies which make off-grid living ever more comfortable.  Here are two – your favorite suggestions please, readers,  in comments at end of this story.:-
The impact of the microwave oven on human grazing habits has been extreme. It can reheat frozen food or cook raw food in a fraction of the time required of a conventional oven and has brought the convenience of preparing food to new levels. The WaveBox Microwave Oven is a lightweight, portable, tough and versatile microwave (complete with handle) you can run off your truck or car battery. A hot home-cooked meal with no AC. Plus, it has a compartment to keep food cool until you're ready to heat it. Now that's truly a "hot" new "cool" tool! It could hardly be said to have No Impact.
Truckies, RVers, boaties, campers … . The WaveBox weighs just 6.3 kg (14 pounds), runs on mains voltage regardless of country, and can run from a 12 volt battery using alligator leads or from your in-vehicle power outlet. This is without doubt a killer app!
The microwave has had a massive impact on the way we consume our food,  and been one of the factors involved in the breakdown of traditional family meal times.
The Wavebox takes this a step further and for campers, location workers, travelers, RVers, boaties, truckies, … the advent of the Wavebox will be welcome news to all those who enjoy the great outdoors or need to cook beyond the grid.
The Wavebox comes with three preset cook buttons or you can set your own cook times. It is available in four colors (Pearl, Cherry, Cobalt and Midnight), and at 28 x 25.5 x 38 cm (11 x 10 x 15 inches), it's a must have camping accessory.
Wavebox can be purchased in the United States, here and  United Kingdom here.
Plug & Play Universal BoomBox — This self-contained portable satellite radio (complete with antenna) allows you to plug in your car or home satellite radio receiver. It can be set up in seconds in just about any place you want to use it. With a special base speaker, now any off-grid scene can have crystal-clear, commercial-free music with great sound.