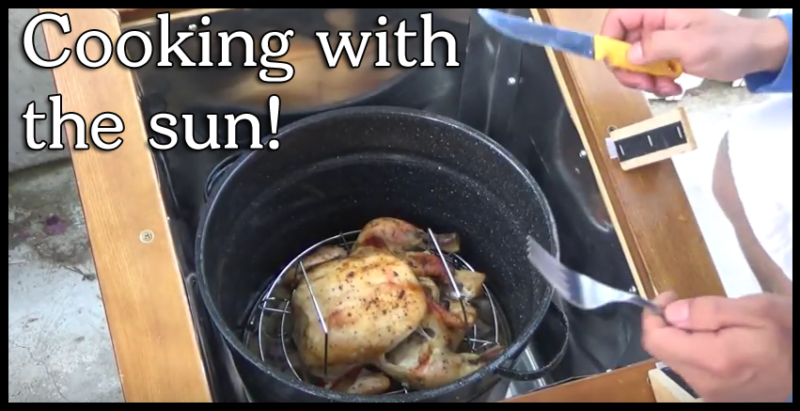 There are several different ways to use the sun in cooking, aka solar cooking or solar ovens. If you live in a sunny place, the desert, anyplace with unobstructed sunshine, you can use a solar oven to cook most meals.
There are parabolic cookers, these are like using a hot grill, you pretty much have to be right on top of it all the time to cook with these.
There are panel cookers, these use a silver (usually mylar) foil covered cardboard, the DIY ones are often made from a window shade made for vehicles. The nice thing about these are they are very portable, light and easy to set up. The bad thing about them is they don't reach and maintain a very high temperature, and being light weight, they can blow away in wind.
The third major kind are box cookers, these work just like a small oven, they can be made of a cardboard box, or for a more permanent solution, made of wood or plastic. It is essentially an insulated box with a glass top and to make them work even better, reflectors are added to the top. This is the kind I like best.
I have scoured YouTube in search of the best build, I see many mistakes being made, mainly in the materials used in building them, you don't want to use anything that will off gas or become toxic when it becomes hot, using styrofoam, some types of glue, some kinds of wood even will out gas toxic fumes when heated, I cringe when I see these being used.
I found one video that really jumped out at me, though I'm sure there are many more, I liked this one. The first video shows how it's built, I will admit that my ADD struck and I had to move the video along a bit, but the build is solid. The second video shows a whole chicken being cooked in this solar oven. Enjoy!
https://youtu.be/yPRkwnpv-C8