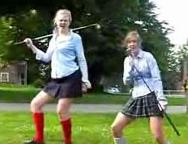 The first off-grid classroom with a revolutionary solar-powered rainwater harvesting and filtration system, has been opened.  Exclusive Benenden School in the UK, a girls-only boarding school, launched the classroom last term as a place to conduct field studies of nature subjects.
Benenden provides the innovative teach space set amongst mature parkland. The unique education facility is designed to be entirely off-grid, relying only on solar energy for electricity.
Constructed using sustainably harvested timber and incorporating a green roof, the Eco-Classroom also features a green roof that allows the structure to blend perfectly with the woodland. The structure is also the first building in the UK that processes harvested rainwater from the green roof into hot and cold drinking water using solar energy.
"This facility will enable classes to undertake fieldwork in the School grounds and will greatly enhance many aspects of the curriculum as well as providing a facility for use by local schools," said Anthony Cawley, Benenden School Estates Bursar.