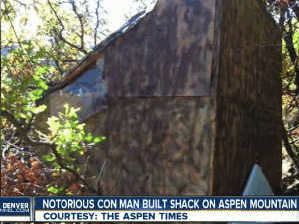 Con man James Hogue, famous for impersonating a Princeton student in the 1990s, has been found living in an illegally built cabin on Aspen Mountain in Colorado and running a social media business selling stolen goods via Ebay.
Police speculated that James, 57, had been living in the off-grid cabin on Shadow Mountain – a rather good address for a fugitive, on the westernmost peak of Aspen Mountain – for up to two years before an officer knocked on his door in September 2016. James ducked out the window and disappeared into the woods. The shack, which was allegedly built with materials and tools stolen from local construction sites, was (sadly) torn down by city parks department employees.
The fully enclosed, insulated cabin was built on a foundation and featured a window in the corner and a front door with two locks and a two-by-four across the door for security. The entrance, near one of the mountain lifts, was well camouflaged in the thick bush. The cabin was covered with black spray-paint designs on its plywood siding.
James, a latter day version of  Frank Abagnale Jr, portrayed in the movie Catch me if you Can starring Leonardo di Caprio, was arrested two months later when Aspen Skiing Co. employees saw him trying to build another cabin in the same area – he had dug out a 6-foot hole nearby for a new foundation and had started rebuilding near the remains of his old cabin. The work was in early stages and not easily hidden by its surroundings.
Aspen police officer Dan Davis took James into custody in a public library.
"[James] saw the officer's uniform and it was like an 'Oh crap' moment for him," Dan told the Aspen Times.
"He said his name was David Bee … from Ontario [Canada]. But I knew it was him. I said, 'We'll figure it out at the jail. If it's not you, we'll apologize and let you go on your way.'"
Police found James' Nissan Xterra SUV nearby, where he had stashed $17,000 in cash as well as stolen ski jackets, ski pants and ledgers detailing an online eBay business. James faces between one and three years in prison after pleading guilty to felony theft between $2,000 and $5000, felony possession of burglary tools and misdemeanor obstructing police officers.
A gifted runner, James posed at the age of 26 as a 16-year-old high school student Jay Huntsman in Palo Alto, California in the 1980s, and as a college student on track scholarship at Princeton when he was in his 30s. The elaborate Princeton hoax, which fooled the Princeton university board and several newspapers wanting to report on James' track successes, was captured in a New Yorker profile and a documentary.
Named one of America's Top 10 Impostors by Time Magazine, James was also arrested for stealing $50,000 worth of jewels from a Harvard museum in the early 1990s, and then served time in a Colorado prison after pleading guilty to stealing items in the Telluride area.