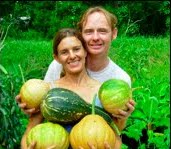 By Tia Meer
My dream home is an oddball. It doesn't quite fit it. It's unlike anything in the surrounding neighborhood. It is, in fact, unlike anything in Central Florida.
That's exactly why I love it.
It's a beautiful log cabin, just 30 minutes from Walt Disney World, but world's apart. It is simple living at its best.
My husband, Terry, and I built it ourselves after getting married in 2007. The goal was to make it as sustainable as possible. Three years later, the finished product puts a smile on my face every day.      
For starters, we snatched up five acres of arborous land. Next, we began shipping in Southern yellow pine logs. And construction began. Since we are near the Econlockhatchee River, we built the house on 8-foot-tall concrete piers to rise above the flood plain.
The raised elevation also serves another purpose. It creates negative pressure and voila! we've got a cross-sectional breeze that helps regulate the temps. Yes, that means no need for air conditioning or heating.
We also kept it small. It's 1,024 square feet (two bedrooms, plus a loft) with 600 square feet of porch space. The house is square, 32 inches by 32 inches, as to not waste lumber since 8-foot pieces of lumber are common.
Next, we set out to make it as energy efficient as possible. The solid, log walls provide great insulation with an R factor of 12. The roof is made from galvalume and has an 8-inch-thick layer of spray insulation.  In the winter, even lighting a candle will cause the temperature to rise a tenth of a degree.
Our water heater is an alternative type called a heat pump. The heat pump works like a refrigerator by pulling the heat from the air. The by-product is water and cool air that can be vented into the house. We have a standard Energy Star refrigerator and stove, along with a propane stove with a cast iron 3-burner grill top outside.
Keeping Our Cool
Florida summers are, no doubt, hot and humid. So, during the hottest months, we cook outside for the most part to avoid heating the house, which stays about 80 degrees. During the day, we close the doors and windows to keep the heat out and open them at night to cool the house down.
We have two air-conditioning units, one small window unit in our bedroom and another in the living room. With both units running we can cool the house to a comfortable temperature for those adapted to climate-controlled environments. We also have a ceiling fan in almost every room of the house.
Generally, we just turn on the ceiling fan in the room we are in and that is good enough. When it is hot at night we close our door and turn on the window air-conditioning unit in the bedroom.
Many times, we opt for bathing suits and several dips in the river or a cold shower. As for wintertime, we have a portable space heater, just in case. However, we've only used it a few times as of yet. We also have a dehumidifier handy to warm up the house.
Forget Grocery Shopping
I'm proud to say our meal plates are often filled with colorful, fresh foods straight from our garden. On our property we have a wide variety of native and exotic fruits, including banana, papaya, pineapple, mulberry, persimmon, figs, jaboticaba, miraclefruit, blackberries, blueberries, strawberries, and a variety of citrus trees.
In the summer when it gets too hot we grow sweet potatoes, peppers, eggplant, okra and cover crops such as black-eyed peas. In the cooler months, we have lots of lettuce and leafy greens for salads. In the warm months, the greens bolt and die off and then the cucumbers and tomatoes ripen, so we never really get a complete salad except for a few times each year.
Out of our five acres of home sweet home, the house and garden occupy one half of an acre and we keep the remaining 4.5 areas natural and plant only native vegetation where needed.
We start flats of seeds for our vegetables in our mini greenhouse and transplant them into the garden when they are big enough. Our main gardening season runs from September to May.
But, as you can see, our dream home keeps us busy all year long.
To learn more about simple living, visit www.simplelivinginstitute.org. Simple Living is a nonprofit group made up of Central Floridians who wish to create a stronger community that values the environment, personal health and has a vision for a more self-sufficient lifestyle.