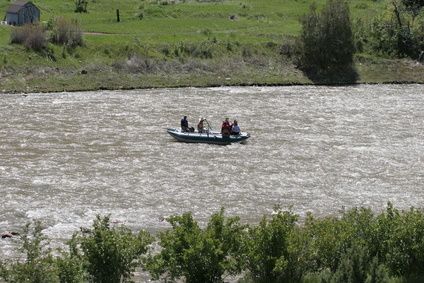 Discovery press office is crowing about a new off-grid series it has just commissioned:
Witness the challenge of purchasing a home that has no running water, electricity, indoor bathrooms or, in some cases, access roads when BUYING ALASKA heads to the last great American Frontier to learn what it takes to own a treasured piece of the untamed north. (Or you could put a posting on www.landbuddy.com).
Here are some tips for buying salmon fishing river drawn from the series:
Determine whether you want river or ocean. Salmon in Alaska come close to shore where they gather before heading upriver with the tide. Properties on a bay with ocean access or properties on a river where salmon go to spawn can both provide excellent fishing opportunities.
Determine in which part of Alaska you would like the property to be located. Alaska is a huge state with many miles of coastline and river frontage that provide access to salmon fishing waters. If being closer to Seattle and the Pacific northwest is important, perhaps selecting a property in Ketchikan would be best. For a property that has access to salmon fishing that also provides the benefits of being closer to a large town, perhaps the Kenai peninsula would be a better fit.
Try to visit the area where you want to buy before actually purchasing property. Even if you don't see the specific property, it will give you a better idea of how hard it is to get there and how long the travel time might be.
Discovery sub-brand, DESTINATION AMERICA has greenlit the new series hitting the network's programming line-up this fall/winter.said Marc Etkind, of Destination America. "Most people, at one time or another, can relate to the dream of trading in the rat race and roughing it in an untamed territory."
BUYING ALASKA proves that forgoing basic amenities is a reasonable tradeoff when it comes to breathtaking views and stunning wild surroundings that you can't find anywhere in the lower 48 states. Offering much more than living quarters, these properties are so in tune with the extraordinary landscape that it's often what's beyond the house that proves to be the main attraction — from the ability to hunt and fish from your back deck, to extreme seclusion on your own private island, to self-sustaining features such as smokehouses and greenhouses. However, there are also dangers that come with all the beauty, and living in this rugged and remote terrain can lead to animal attacks and brutal winters that cut you off from society. BUYING ALASKA may only be for the most adventurous of spirits as the new series premieres on Sunday, October 21 at 10pm E/P on DESTINATION AMERICA.
The first four episodes of BUYING ALASKA are:
Sunday, October 21 at 10 PM and 10:30PM (E/P)
BUYING ALASKA — Salmon Capital
Scott and Kelly are Alaskan born-and-bred and true lovers of the outdoors with a passion for fishing. All Scott wants is a place on the Kenai River, home to the some of the greatest King Salmon fishing in Alaska. His goal is to fish right from his backyard. This couple comes across some tough choices when one cozy 480 square foot cabin can sleep up to seven people, but another has a secure bear door and bathhouse with running water.
BUYING ALASKA — Deep Sea Fishing Cabins
Robert and Kristen Lamb travel from Utah every year with their four children to go fish for some of the best halibut and salmon in Alaska. They are looking for a cabin right on Kachemak Bay near their favorite fishing spots that will also work for their big family. Will the house on stilts with a 112-step stairway prove to be too difficult to maneuver or is it the home with the outhouse on a 50 ft. walk in bear country more appealing?
Sunday, October 28 at 10 PM and 10:30PM (E/P)
BUYING ALASKA — Sled Dogs
Andy and Carolyn are avid dogsledders from New Jersey. They are moving to Alaska in hopes of becoming champion dog mushers. But to do that, they first need to find a home where they can raise and train their team. Will they choose the home with a two-seater outhouse or the cabin just out of reach from the dog trails?
BUYING ALASKA — The Wilderness Man
Bud Jacque is a former Merchant Marine looking for his Alaskan wilderness home with his wife, Susan. He's a man of simple tastes; all he wants is a great view, and somewhere he can spend his days hunting and fishing. There's a gem with a fish cleaning station, greenhouse, smoker and stunning vistas, but Susan may need more amenities before she's ready to call it home.