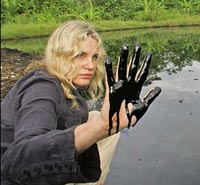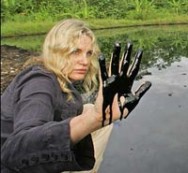 Hannah:her hands are clean "I can't stand the word "green," says actress and biofuel campaigner Daryl Hannah. And she's not the only one. All over the environmental movement we' re sick of Greenwash, and we're not going to take it any more.
"It's become a pedantic, smug, judgmental word that is unrelated to the rest of one's life," she tells The Guardian newspaper. The word 'green' "is being so overused as a marketing tool that it has no credibility," says Hannah.
She is right, of course. Advertising people love the word Green – they have rendered it almost meaningless – reduced it to a mix of lifestyle choices, expensive organic whimsies, unaffordable building codes and ridiculous gadgets such as an over-designed composter for your marble kitchen counter-top.
Their shade of Green is the color of Astroturf – synthetic, ugly and potentially damaging.
Porter Novelli, the global public relations firm, says, "even the tardiest marketers are scrambling to make green attributes and launch new products and services positioned as more responsible alternatives."
Its time that environmentalists re-appropriated the language of ecology – seized it back from the new army of marketers and consultants who are reassuring us that we can all go "green" while we continue to consume as much as before – grow the economy as much as before, just so long as we do it in a new "green" way.
This time we need something the marketers will never want to appropriate – and that's why Brown may be the new Green. It's the color of the Earth, of dirt – it reminds us that things smell as they compost, it reassures us that we do not necessarily need to put on a clean white shirt to go to work. But Madison Avenue does not like stains. Try saying "Brown Huggies." It will never take off.
The Green Party could change it s name to the Brown Party and Greenpeace become Brownpeace.
Hannah is proud of growing her own food (not all of it surely?). But as she says:"we're in the midst of a massive population explosion, a credit crisis, there's climate chaos, poverty, unprecedented loss of species, loss of open wild space, resource depletion and growing dead zones and yet we still act slowly, if at all. What's wrong with us?"
And what would she save, apart from her family and friends, come the floods?
"My critters, seeds, eggs, medicinal spores and worms."
Brown eggs, I hope, Daryl.