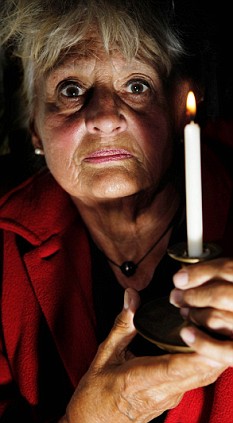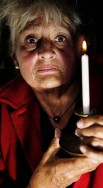 Everybody should try it A 72-year old woman has switched off ALL power in her home in protest at 'crazy' energy bills. Anne Myall refuses to use electricity in her home after receiving massive bills she claims were incorrect. The electricity company, NPower has promised her a full refund, but Ms Myall continues to live by candlelight and use a wood fire for her heating report several British newspapers.
In protest at the cost of her energy bills, Myall no longer spends her evenings watching television in front of an electric fire, instead the grandmother listens to a battery-powered radio wrapped up in bed.
She has dispensed with hot water and all her hot food comes from a local takeaway restaurant. For lunch the pensioner has been tucking into pre-cooked supermarket chicken and plenty of cold salads and both her laptop computer and mobile phone are useless because she is unable to recharge them.
She has spent more than a fortnight living a life more akin to the Victoria age after Npower sent her a series of large fuel bills.
Mrs Myall, a widow who has lived alone since the death of her husband eight years ago, said: 'They have been bullying me and browbeating me for three years with silly, inaccurate bills upwards of £700 a quarter.
'I only have a one-bedroom flat and I'm very economical. It's just crazy, my electricity bill should be about £18 a quarter.'
She moved into the flat in Pocklington, North Yorkshire, three years ago and claims she was immediately hit by a bill.
Mrs Myall, a retired journalist, said: 'I received a demand for £53 just days after arriving. I have tried many times to contact Npower with no success. I even got one bill for £758.
'I'm often away in the winter and I never turn my heating on so I feel that they have just been using guesswork based around an incorrect meter reading they took when I moved in.'
The final straw came when Npower staff replaced her old meter system with a pre-payment system while she was abroad.
Unhappy that the work was undertaken without her knowledge, she felt the new meter used more energy than the old system and decided to pull the plug.
Protest: The widow has restored to living without modern comforts in her one-bed home She said: 'It's amazing how one can manage, I can't believe how well I feel for doing this. The biggest loss is being able to eat fresh vegetables because I love them but I'm getting by with eating salad.
'I love reading so I'm not really missing the TV, although I do miss my hot water bottle and I'm now looking for a gas camping stove. I've not been able to run my computer or recharge my mobile phone either.'
She added: 'This is really a protest against the energy company and the Government's lack of will to do anything about it.
'How Npower works out how much they charge I do not know. They can please themselves and have us over a barrel.
'If everybody switched their meter off for a week just to see what it's like, it would send a message to these companies that they're not untouchable.'
Npower claim Mrs Myall has an outstanding bill of £225 but have now agreed to clear the debt after hearing of her protest.
A spokesman said: 'We will be clearing her debt as a goodwill gesture as we do not wish to see her struggle.
Yeah right.