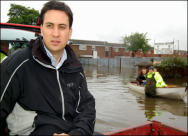 Ed Miliband, climate change ministerThe UK government has backed down in the face of utility company opposition and introduced an Energy Bill which stops short of guaranteeing householders can sell their renewable energy back to the Grid.
Although the British administration tabled an amendment to its own bill that would allow people to generate enough power to serve a community of more than 1,000 people, it does not yet require the energy companies to take a feed from their customers.
The amendment proposes that generators capable of creating up to 3 megawatts (MW) of power would qualify for feed-in tariffs (FITs), with the hope of a big increase in micro-generators from the 100,000 currently in use.
A government spokeswoman said it was intended to encourage communities and businesses as well as individuals to install low-carbon electricity generators. The government said a 2MW generator could serve a community of 1,000 people.
The government is struggling to meet the EU target that 15% of UK energy should come from renewables by 2020 and will hope a big take-up of FITs will galvanise the effort. In his 2006 review, Renewables currently account for less than 5% of UK electricity use, compared with 14% in Germany, which has legislated for FITs.
The amendment is likely to be backed by parliament – before the government's action, a cross-party FIT amendment had been launched by Conservative peer Baroness Wilcox, Labour peer Lord Puttnam and Lib Dem peer Lord Redesdale.
Tabling the amendment, climate change minister Ed Miliband said: "This decision means that installing equipment like wind turbines, solar panels or biomass heaters will be much more financially attractive. It will make a real difference to families, communities and businesses that want to generate their own energy."
Though green campaigners have lobbied for the move, they were "deeply disappointed" with the detail of the amendment, describing it as a "fudge". Friends of the Earth campaigner Ed Matthew said: "This is not the feed-in tariff we were promised; it's a giant legal loophole. The legislation put forward by the government is vaguely worded and gives no certainty to business that a feed will be introduced."
Tabling the amendment, the government also announced a financial support mechanism for renewable heat. The Renewable Heat Incentive – described as the first such initiative in Europe – will provide financial help for people who install renewable heat generators or heat pumps. Carbon dioxide from heating accounts for 47% of the UK's total emissions.
The government hopes the move will put pressure on the Conservatives' green pledges. The Conservatives' Quality of Life report suggested a feed-in tariff for the smaller capacity of 250 kilowatts. A government spokesman said: "The Conservatives' idea would benefit individuals – ours would see people taking control of energy at a community level."
The measure will be debated in the Lords next week.