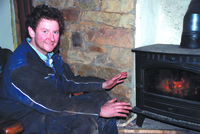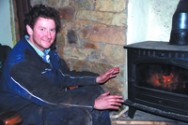 Hoyle with his "unecological" log fire An historic 18th century house on the edge of a National park in north-west England, has been refused classification as a dwelling after tens of thousands were spent installing an off-grid system.
Although people have lived there off and on for 300 years, the eco-home's owner has been told he must demolish the improvements and move out. The local council planning department in Mallerstang, Cumbria deny that the owner Adam Hoyle, has created an eco-dwelling there – because he drives 3.5 miles to work.
Neighbour Annie Gregory told the local paper "He has won such a high level of support not out of misguided friendship but because people who previously scarcely knew him think the council's actions verge on the brainless."
Having failed to reverse the council decision, Hoyle has a few days to try and affect its new Core Strategy Development Plan. He will then have up to 12 months to remove the building's roof and the repairs to the outside walls rendering it uninhabitable, and this in an area where many homes are owned by weekenders, driving prices up to levels locals cannot afford.
He added that although Mr Hoyle considered Carr House ecologically sound, the council had found this not to be the case.
He said: "Mr Hoyle was using a wood burning stove and a cooker powered by bottled gas."
"It is virtually incredible that any sane organisation could order the destruction of an attractive building, hidden from view, that has been part of the local settlement pattern for generations," said Ms Gregory. "It is actually beyond belief that it could do so to one that sets a template for sustainable development in an area where homes for local people are in such miserably short supply," she said.
Electricity at the house is generated by a wind turbine and a water turbine powered by the neighbouring stream. It also has an outside composting toilet which extracts foul air via solar power. There are no electricity bills as the house is completely off-grid.
The wind and water turbines each produce 24 volts DC which is then stored in a battery bank before being converted, via an inverter, into the 240 volts AC needed to run electrical appliances.
Mr. Hoyle said the house was not ahead of its time, and he was just utilising ideas which everybody had access to. He said it was a sustainable affordable home from which he would like to start a family with his girlfriend.
"In the future every house is going to need a means of sustainability. We have all got to think more about our actions and our carbon usage as global warming becomes more and more important, and we've all got a duty to leave a clean environment for our children," said Mr. Hoyle.
Kirkby Stephen-based planning consultant Tom Woof, of Development Planning Solutions Limited, said the situation was very regrettable, but was not over yet.
"There are a number of avenues still to pursue," said Mr. Woof. "We are asking the council to look again at its decision."
Mr. Woof said Mr. Hoyle contacted him about the potential enforcement action earlier this year. "Adam has restored this old building as a zero carbon development which is the way the Government wants us to be. There is a lot of planning merit in the development and it also provides an affordable house for a local person," he said.
However, planning officers at Eden Council, who received 23 letters of support for the application and no objections, said that for a certificate of lawful use to be granted, the property had to have been completed and lived in for a period of four years. They produced photographs to show that in 2004 the property still did not have a roof, meaning it could not have been completed in 2003.
Planning officer Gwyn Clark told a meeting of the council's planning applications committee that Mr. Hoyle himself only claimed to be sleeping in a sleeping bag within a structure, covered with a tarpaulin, on the site, rather than the main building, which Mr. Clark said did not constitute continuous residential use.
He said letters which had been sent to the council confirming Mr. Hoyle's residence there since 2003 were irrelevant if he had not been living in the substantially completed main building, and the evidence suggested that this was the case.
Henry Sawrey-Cookson (Ind., Kirkby Thore) said Mr. Hoyle had effectively created an affordable house, while Margaret Wilcox (Lib. Dem., Orton with Tebay) commended the zero carbon footprint of the property.
However, councillors agreed there was no evidence to support an application for a certificate of lawful use and refused the application.
As a result of the planning applications committee's decision, Mr. Hoyle was told that enforcement action will be taken to undo the renovation work.
Mr. Hoyle, who has an engineering background, has been based at his waste transfer station in Station Yard, Kirkby Stephen, since 1992. He has been working on Carr House, which was last inhabited in the 1920s by a plate layer working on the Settle-Carlisle rail line, for the past five years.
"I would concede that Mr. Hoyle had gone about this in an ill-advised way but I think it is a measure of the desperation felt by many people in Eden that they will never be able to get a home by conventional means," said Ms Gregory.
I trust we will all remember what has happened to Mr. Hoyle the next time developers are granted retrospective planning consent when they, too, have broken the rules. Equally, I hope we, the voters, will remember what our elected representatives clearly think about us next time they canvass our votes. Yours etc," she said.