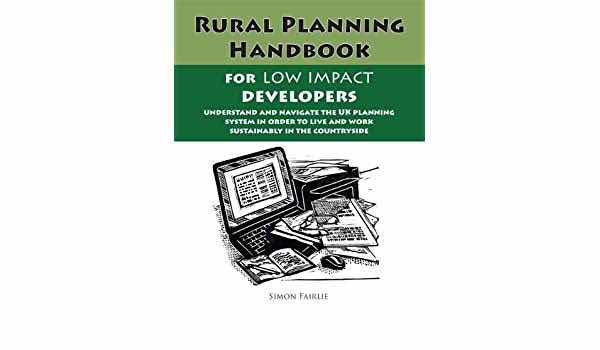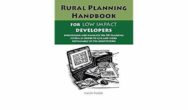 The
Rural Planning Handbook
has a cover price of £25.  But £20 will secure it direct from the author, and cash in an envelope is also acceptable.  Now that's what I call publishing.
There are many good things about the new edition of a key guide for self-builders and off-gridders trying to win planning permission to live in the countryside.
It is both a detailed and comprehensive survey of the main options and pitfalls for getting official permission to live an off-grid (or 'low-impact') existence in the most crowded parts of England, where property developers and farmers have failed to get their way, and rich neighbours jealously guard access to the byways and backwaters of this rich and fecund country.
But the best thing of all about the Rural Planning Handbook is that it is not available on Amazon. Yes, there are one or two copies available from dealers for £35, but the best way to buy it is to send a cheque for £20 to Chapter 7 – the campaigning organisation which is led by Simon Fairlie, author of the handbook. They also accept cash. Paypal by prior arrangement.
The book has been an important part of the armoury of hundreds, possibly thousands of planning applications and planning appeals over the past ten years.  It runs through the main processes that must be undertaken if you are to win your battle with the authorities, and prepares readers for the mental anguish they will undoubtedly experience.
There is a huge amount of well-organised information – see the table of contents below. Planning laws are so detailed and specific that the information is often bewildering, even though it is clearly presented by Fairlie, who has been writing on this subject for decades. 
What the book lacks is a series of case studies or general hypothetical situations, so that individuals can get to the details that apply specifically to their own circumstances instead of having to read between the lines to find what they need.  There should be living or fictionalised examples of situations such as living in an agricultural building,  buying a field, living in woodland, living in a caravan in a field or wood, living in a camper van etc. The informational content would not be any different but this way of organising it would make it much more accessible for non-experts.
Rural Planning Handbook – Contents page:
1. Introduction to the Mysteries of the Planning System
Understanding the mentality • An overview of the English planning system • Ground rules for an easy life • What should I do first — move on or apply for permission?
2 Permitted Development
What is and isn't development? • What is permitted development? • A list of the most relevant permitted development rights
3 Making a Planning Application
Submitting a planning application • Putting in a convincing application • After submitting the application
4 Rural Workers' Dwellings
What is a rural worker? • Essential need • The weight to be attached to the policy • The functional need test • The financial test • Other requirements • Temporary and permanent permission • Presenting your evidence • Conditions and section 106 agreements • The live-work alternative • The barn builder's caravan gambit • Annex A of PPG7.
5 Non-Agricultural Dwellings
Twenty not very reliable ways to secure an affordable rural dwelling • Some thoughts on strategy • The Human Rights Act
6 Caravans
Definition of caravan • When is planning permission needed? • Permitted development, including seasonal use
7 Lawful Development Certificates
Four Years or Ten? • Ways to slip up • How to apply • Lawful Development Certificates in other situations
8 Appeals and Public Inquiries
What is an appeal? • Deciding whether to appeal • Submitting an appeal • Written representations • Hearings • Preparing for a public inquiry •The public inquiry: on the day • After the appeal
9 Examples of Relevant Appeal Decisions and Case Law
10 Enforcement
Overview of the enforcement regime • The barking stage • The biting stage
11 Gypsies and Travellers
Gypsy status: definition of gypsy/traveller • Planning policy for traveller sites • Determining planning applications
12 Wales
Planning law: more similar than different • Planning policy guidance: TAN6 • One Planet Development
13 Scotland
An introduction to planning law in Scotland • The Scottish planning system • Making a planning application • Permitted development • Appeals • Enforcement • Certificates of lawful use and development • Rural dwellings policies • Huts and hutting • Crofting • Other land issues
14 Resources, Index and Glossary
The book has 250 double column pages, and 14 illustrations.  It is published by Red Brick Books of Glastonbury. It can be ordered direct from the author.
Simon Fairlie
Land Magazine
Monkton Wyld Court
Charmouth
Bridport, Dorset
DT6 6DQ