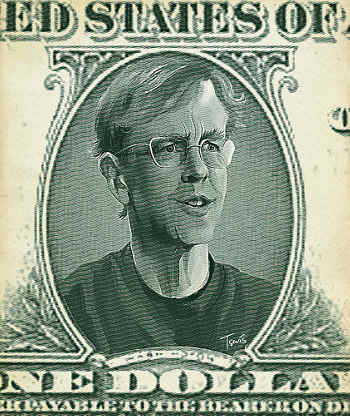 Bloom Energy has maintained a low profile since its highly orchestrated news conference, chaired by John Doerr,  raising the curtain on its fuel cell technology this year.
Now Adobe Systems announced it has chosen Bloom Energy's technology to power its corporate headquarters in downtown San Jose, making it Bloom's largest single-site installation to date.
Adobe installed 20 vertically shaped wind turbines, made by Windspire Energy of Reno, at its headquarters in January. But with 2,500 employees and about a million square feet of office space, the company is eager to do even more to reduce its energy footprint.
It's high-rise offices at Park Avenue and Almaden Boulevard lack the roof space usually required to make solar power an attractive investment, so Adobe looked at fuel cells.
Fuel cells use hydrogen, natural gas, methane or other fuels to generate electricity through an electrochemical process that produces a fraction of the emissions of a typical power plant. For decades, researchers have tried to perfect solid oxide fuel cells, which operate at temperatures above 800 degrees Celsius and can use fuels other than hydrogen. Bloom Energy says it has solved the major solid oxide engineering challenges and that its devices can recycle the waste heat to produce more electricity.
"We looked at several fuel cell providers," said Randy Knox III, Adobe's director of facilities and environmental programs. "The bright spot for Bloom is they reuse the heat to make the process more efficient."
Twelve of the Bloom devices — commonly known as "Bloom Boxes" — were installed in late August and are now generating electricity from Adobe's roof. Each Bloom Box provides 100 kilowatts, enough power for about 100 U.S. homes. The 12 together generate about 1.2 megawatts, enough for about 30 percent of the Adobe Towers' electricity needs.
The fuel cell technology is not cheap: The commercial-scale boxes cost $700,000 to $800,000 each and come with a 10-year warranty on performance that includes any maintenance and replacement parts.
Adobe declined to discuss how much they paid Bloom, but Knox said Adobe expects the boxes to generate enough electricity for it to recoup its investment in four to six years.
Unlike solar power and wind, which are intermittent and dependent on the weather, fuel cells have the advantage of being able to run 24 hours a day, 365 days a year.
Bloom Energy first vaulted onto the cleantech stage in February, at a jampacked news conference that featured Gov. Arnold Schwarzenegger and former Secretary of State Colin Powell. The startup announced that Google, eBay, FedEx and Wal-Mart were among its first customers, and that 20 Bloom Boxes were up and running.
Now with the 12 at Adobe, more than 50 Bloom Boxes have been installed, the company says, and it expects to have 100 in place by the end of the year – one of them at the Half-Moon Bay retreat of Bloom Box backer John Doerr.
"We're trying to quietly go about building our business and growing our installed base," said Stu Aaron, Bloom Energy's vice president of marketing.
The company is also hiring and has more than 500 employees, up from about 300 in February.