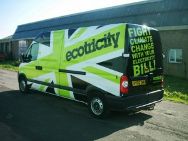 Union Hijack says Ecotricity
French energy company EDF has been accused of stealing the idea of a green Union Jack by a tiny eco-power company. The nuclear giant is using the logo to launch its first Green Britain day. So is EDF's Green Day a laudable attempt at social responsibility, cynical corporate green-wash or just plain old theft?
For the past month French-owned energy company EDF has bombarded British consumers with images of British cultural icons dyed green to promote the first Green Britiain Day.
Despite the fact that only a tiny fraction of its own energy is generated from renewable sources, the company describes the event as a "landmark national initiative to help people reduce Great Britain's carbon footprint by 2012."
The promotional ads for the multi million pound campaign use an image of the Union Jack in green, pictures of a pair of green Doctor Marten's boots and a stylish green frock.
Green Day will become, says EDF, a focal point for people to take action towards a more sustainable lifestyle. "Climate change is one of the biggest challenges facing us. As an energy company, EDF Energy has a responsibility to be at the heart of the solution to climate change and we have the expertise to help people use their energy more efficiently," said Vincent de Rivaz, Chief Executive of EDF Energy.
The company which is the first sustainability partner of the London 2012 Olympic and Paralympic Games, has the support of environmental charity The Eden Project and the main political parties as well as a number of high profile athletes including double Olympic rowing gold medallist James Cracknell. "Hundreds of schools are set to hold events inviting people from the local community into schools to be inspired by the efforts pupils and teachers have already made to make their schools more sustainable. There will also be public events in towns and cities across the country, encouraging people to take action," claims EDF.
Marvellous. Who would disagree that climate change is one of the biggest challenges facing us, or that collective action will be key in solving the problem? Who could possibly object to EDF's campaign?
Well green energy company Ecotricity for one. It is threatening legal action against EDF on the grounds that the only thing that is green about EDF's campaign is that it is recycling Ecotricity's intellectual property. Ecotricity claims that it owns the green union, having first used it in an ad in The Guardian newspaper two years ago, and it says the EDF campaign is misleading. "The image was commissioned by Ecotricity and we have ownership rights… but now there is a scenario where people click on the image of a green Union flag and end up on the website of a French nuclear company," said Ecotricity chief executive Dale Vince.
There is an even bigger problem with the campaign say critics which is that it doesn't distinguish between EDF's ambition and the reality of its current business. In so doing it leaves the erroneous impression that EDF is a green company, when the facts suggest the exact opposite.
EDF not only boasts that it is the largest producer of civil nuclear power in the world, it also declares itself to be "one of the largest participants in the global coal market."   While detailed figures for EDF's world wide activities are not available, the E60bn a year company does publish figures for its UK activities. These show that when it comes to fuel sources, EDF is in fact far more releiant on coal dirtier than average. 49% of EDF's energy mix in the UK comes from coal compared to a national average of 33%. In total 92% of its energy comes from Coal, Nuclear and Gas. And just six percent of its energy comes from renewable sources –equal to the UK average.
| | | |
| --- | --- | --- |
| Fuel Source | EDF Energy Fuel Mix | Average UK Fuel Mix* |
| Coal | 49% | 33% |
| Gas | 31% | 43% |
| Nuclear | 12% | 16% |
| Renewables | 6% | 6% |
| Other | 2% | 2% |
EDF 's energy mix compared to UK average, Source: EDF
According to figures compiled by Ecotricity, EDF is the worst performing of the big six UK energy companies when it comes to per capita investment in building new sources of green electricity over the past five years. It spent just £4.14 per customer compared to £27.65 by Scottish Electric and £5.37 by E. On.
And it seems to spend as much  on publicising its green activities as on those activities themselves. While headline Olympic sponsorship costs around £40m, EDF spent just £38m on renewables 2008, according to Which Green. "This is not just a smash and grab raid on our identity (perhaps our national identity) – it's an attempt at possibly the biggest greenwash in corporate history," said Dale Vince.
An EDF spokesman however defended his company's use of the Union Jack. "An annual event, Green Britain Day is designed to be a focal point to rally the nation to take action towards a more sustainable lifestyle, inspired by the important milestone of 2012 and the spirit of the Olympic movement," he said.
He claimed that EDF is the largest producer of low carbon electricity in the UK –although this is mostly nuclear. In 2007 EDF began to implement what it says is the biggest package of environmental initiatives of any UK energy company. This includes a major undertaking to reduce the intensity of CO2 emissions,  from what it calls its "legacy generation fleet", by 60% within 13 years.