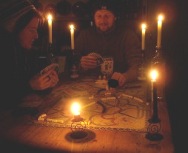 If you cannot wait until Earth Hour on 27 March to switch off power in your house, try making this weekend your  Power Off Weekend.  That is what a group in the UK are doing.  The Power Off movement  chooses random weekends to switch off all power (yes, including the freezer), and play games by candlelight.
"Power Off is all about having time to have fun, play games, talk to people, have friends and neighbours round, spend time with your children," says Malcolm, who has started the Touchwood project in the Orkneys to popularise the idea.  Of course if you turn off the power in the Orkneys at night, then it gets really dark, unlike London. But the freezer wont melt in a single weekend because its normally too cold.
Malcolm reminds us of "all the other things that suffer as a result of 24/7 computers, emails, TV, games, chores, noise, 24 hour bright light and one endless season inside your artificial world, called home."
The Power Off brigade want the event this weekend to be a wake up call to "how much we now use electrical items, how much we rely upon electricity generated far away by carbon guzzling technologies, how heavy our footprint and how little time we have left."
Participants in the last Power Off weekend were asked: "What did you enjoy most about the weekend?"  Here are some of their answers.
The quiet, for both of us, i.e. no fridge, radiator noises, no TV.
Being made to think and value electricity and power rather than just use it because it's there. We have left the lights off much more this week!
The quiet and knowledge that machines didn't need to be attended to!
Early to bed and late to rise
All the candles and the secret scent of freedom that comes with no power.
Being released from relying upon clocks and reflexively going online when there are so many other things to do (I read an entire book on Sunday!)
No TV and the peace that came with it. We played pictionary and had fun. Seeing my initially reluctant teenager actively take part. I also quite liked the low lighting from the candles.
Time spent reconnecting with friends, over mulled wine and loud singing and poor guitar playing, oh and devising new ways of doing toast without finger burning. Loved settling in to the early evening with candles and space to think.
The liberation of not checking email!
Difficult to isolate just one thing … I loved the gentle light, I appreciated the daylight more, I loved the calm and quiet, spending quality time with the family without the distraction of the TV, and I really loved the special exciting feeling almost like being on holiday
The Power Off weekend is 48 hours, from 11pm on the Friday night to 11pm on the Sunday (19-21 March 2010), without electricity.