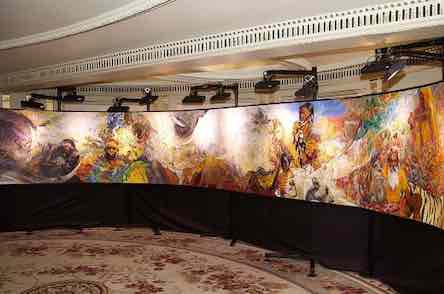 This amazing 360 degree work (only a part shown) by van-dwelling artist Emily Lamb is the product of her time in jungles and mountains around the planet.  She calls it  "My wake-up call to re-invent ourselves in nature and our relationships with all sentient beings on this planet."
Having thrown herself into the monumental work for months – "Now I want to backpack — go with a little money in my pocket and see how people are living," she said after her recent show ended.
"We charge as a species into a consumer driven and frenetic future.  It takes a silent and new army of the common folk, the new brave folk, the new outspoken folk, to protect whats left and what can still become. This is what i believe in, and this is how each brush stroke bled it's colour, and each image came to life. "
Emily, grand-daughter of the legendary wildlife conservationist and artist David Shepherd created the installation consisting of 10 x 80 foot painted canvasses, depicting scenes of wildlife and humanity around the world.  Her late grandfather described her as "…someone who lives and breathes nature and who inspires others to become advocates for conservation."
She had hired a huge industrial space to make the work  "I always wanted a big space — gas heaters and two pairs of gloves and down jackets…… If am I a snug cosy place I just fall asleep."
Now Emily is moving on – out of her space in Cornwall next week to go on the road in her van, a VW Transporter.   She is not entirely happy with her accommodation.
"I cant stand in it and I cant cook properly, " she told me.  Later this year she hopes to customise a much larger vehicle for a tour of Europe. She wants a 3.5 tonne Mercedes Vario – the biggest vehicle you can drive "without having to get a truck license"
"I am nomadic by nature," said the 32 year old who grew up in Surrey but broke free from the suburban lifestyle.
"it all made sense to slot in. But now I have done my last exhibition in that traditional space and I'm taking walks on the cliff and thinking where am I going to next – if you are open then things come your way.
"Artists by nature scavenge and gather."
You can see more of Emily's work here – https://www.emilylamb.co.uk/paintings/