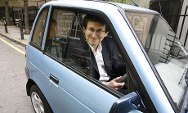 Alan Rusbridger & G-Wiz With its short snout and sit-up-and-beg driving position, the G-Wiz electric car looks like it would be more at home in Toytown than on than on the boulevards of the world's capital cities.
Even so it has rapidly established itself as the ever so slightly smug symbol of superior environmental consciousness among well-wheeled metropolitan liberals such as Guardian editor Alan Rusbridger and actress Kristin Scott Thomas.
But alas, we learn, the G-Wiz is to be no more.
In the 8 years since it launched, it has become the world's best selling electric car and arguably the first consumer icon of the green era.
Known as the Reva I in the US, the car built by tiny Indian car manufacturer, the Reva Electric Car Company, is to be withdrawn next year and replaced by a younger, more athletic model.
Strictly speaking of course the G-Wiz isn't a car at all. Under UK law it is defined as a 'quadracycle' which means it is not obliged to meet the same stringent and costly safety standards as cars. Perhaps that's why motor journalist Jeremy Clarkson once described driving the G-Wiz as "like walking, only less comfortable."
In the US it suffered the ignominy of being classified along side golf buggies as a 'Neighborhood Electric Vehicle' which means it has to be fitted with a 25 mph speed limiter.
REVA NXR replacment
But now Reva is rolling up its sleeves to do battle in the rapidly burgeoning global electric car market with the likes of General Motors, Toyota and Renault. So the G-Wiz is to be replaced by Reva's bright new hope, the catchily named NXR, which will comply with European safety regulations.
The NXR looks more like a normal small family saloon. It will be bigger, faster and more comfortable than the G Wiz, we are promised. It can seat four and travel up to 100 miles on a full battery charge, at speeds of up to 65 kilometers an hour. The G-Wiz couldn't even manage 50 miles on one charge.
It will still be small -a foot and a half shorter than the Mini Cooper, and it will come in just two variations. In Europe, the REVA NXR City, with lead acid batteries will cost around 9,000 euros while the sportier lithium-ion powered NXR
Intercity will sell for about 15,000 euros, or $22,000. But this doesn't include batteries, which the company will lease for a monthly fee.
But despite all this, we know the G-Wiz will never die. How long do you think it'll be before misty-eyed greens form a G-Wiz afficionados club where they can polish their body work and reminisce about the good old days when they were the toast of London's roads.