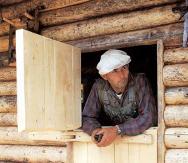 Dick Proenneke is the star of Alone in the Wilderness
, a grainy super-8 film he shot himself. It chronicles his life in the wilderness and it is a YouTube and Amazon

hit (click keep reading for the beautiful YouTube film).The long version of the film became a best-selling DVD
; his little cabin an Alaskan tourist attraction, but not till after he died, age 83.

In 1967, Proenneke began building his cabin in Twin Lakes. He was 51 by then, says the Vancouver Sun, and the 150-square-foot one-room log house he designed would take a spring and summer to complete, for he worked alone.
He felled trees and peeled logs, harvested and hauled several acres of moss for the roof, crafted a wood-burning chimney with lake stones, built a "picture window" framing the lake view and hand-chiselled everything from door hinges to soup ladles to chairs and even his bunk bed, all of it with nothing more than basic tools and an affinity for fine craftsmanship.
Twin Lakes was Proenneke's dream, and he would live it for the next three decades, turning to the land for inspiration and for sustenance, revelling in the splendour of the mountains and forests and lakes, growing vegetables, shooting game and gathering berries.
He built a woodshed, with an attached outhouse, a half moon carved in the door. There was a food cache on stilts, to discourage animal raids.
Sometimes, a pilot friend, Babe Alsworth, would land his little float plane on Proenneke's doorstep, delivering supplies from civilization, flour and bacon and clean socks.
And sometimes, family would visit, or people who had heard about the strange little man who built the cabin and lived all alone, and he would welcome them, delighted for the conversation and company.
Proenneke was as much a naturalist as a back-to-the-lander, and he kept meticulous records in detailed journals, every grizzly sighting, every spring thaw, every sunrise, every seasonal shift in the temperature.
Some of those journals, edited by Sam Keith and published in 1973, became One Man's Wilderness: An Alaskan Odyssey, a fascinating insight into Proenneke's wilderness education, in the self-tutelage of the rhythms and language of nature, including the big bear that charged the door of his cabin and seemed oblivious to the gunshots fired in the ground to scare it off.
Proenneke was a small, wiry man, who walked as if he was a bundle of coiled springs. His drive and determination, he wrote, came from a childhood illness that, once recovered, compelled him to push himself beyond ordinary limits, a mind-over-matter philosophy ascribed to modern-day type-A personalities, if they were butchering mountain goats or notching logs.
Though not unique, Proenneke's is a story not of man conquering nature, but of a man coexisting with it.
His journal entries, with their spare lyrical prose, speak to the wonder of the place he lived, and his contentment.
On Aug. 13, 1968, he wrote: "The cabin was complete now except for the fireplace and, maybe later on, a cache up on poles. It was a good feeling just sitting and reflecting, a proud inner feeling of something I had created with my own hands. I don't think I have ever accomplished anything as satisfying in my entire life."
Proenneke, like all but one of his five siblings, never married or had children, and neither the film nor the book touches much on loneliness, though there is wistfulness and humour, like this entry: "The lake can really change its personality in a hurry. Like a woman all smiles one minute and dancing a temper tantrum the next."
If he was an inveterate record-keeper, Proenneke was also an amateur filmmaker and, using up the boxes of 8-mm and 16-mm film that had been donated to him, he documented the cabin's construction.
One day, in the early 1990s, wilderness photographers Bob Swerer Jr. and his father, Bob, looked up from their Twin Lakes campfire to see Proenneke paddling toward them in his canoe, curious about rare visitors to his neck of the woods and delighted to find fellow filmmakers with whom to swap secrets.
It was the start of a fast friendship. Swerer says people assumed Proenneke was a cranky hermit, but he says the opposite was true, that he wasn't running away as much as he was running to, and that he welcomed visitors and loved to show them around the wild that was his backyard.
"He was such a wonderful guy. He did like his time alone, but he did like visiting with folks, too."
After a time, the harsh weather and tough physical work began to wear on Proenneke and, in 1999, at the age of 82, he left his beloved Upper Twin Lake cabin for the last time, his brother Raymond convincing him that he should be closer to family, and medical care, in California.
The cabin, which he donated to what was now a national park, was preserved largely intact, right down to the pots and pans.
The journals and boxes of film were stashed away for safekeeping.
As Proenneke grew more frail, the Swerers decided to "put something together for him and his brother," says Bob Jr., and set about restoring and editing the raw footage Proenneke had shot.
"His brother showed it to him in the rest home and he was real thrilled to see it," says Swerer.
"A week later, he died."
That was April 28, 2003, and just over a year later, Alone in the Wilderness would air for the first time on PBS, reaching British Columbians on the Seattle affiliate, KCTS 9.
To say it was a hit would be to underestimate the effect that Proenneke's story seemed to have on viewers, many of them Canadians, who know a little something about wild country.
Today, Alone in the Wilderness, with its jerky footage and plain-spoken dialogue -narrated by Bob Sr. and lifted directly from Proenneke's journals -is aired quarterly on KCTS 9 (it shows next on April 16) and is a pledge-drive favourite, raising thousands of dollars for the non-profit network.
Two-thirds of the retail sales of the Proenneke film documentary are from Canadians, according to the KCTS stats, and the last airing of the program also attracted more pledges from Canadian PBS members than those in the U.S.
The station's membership manager, Paula Nemzek, says the film remains popular after six years because "Dick Proenneke's life in Alaska is so simple, honest and self-sufficient that it really strikes a chord with people, who'd like their lives to be more fulfilled and less complicated."
The attraction could well be that Proenneke was not only living his off-the-grid dream, but the dream of viewers as well.
"People just love Dick Proenneke," says Swerer, whose production company has sold thousands of copies of the DVD.
"He's kind of like a religion to them. In this crazy, fast-paced world we live in, people like to see what he did. It's right for the times now."
And the cabin, which park volunteers oversee during the summer and early fall, has become a tourist attraction, receiving several hundred visitors every year, many flown in by Babe's grandson, Glen Alsworth.
"He's kind of like a cult icon," says Alsworth. "It's a fascinating story."