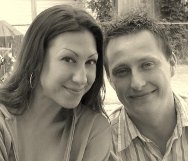 Charlotte & Erron Hello to everyone at www.off-grid.net!
We are new contributors here and are very excited about the opportunity to share our thoughts, experiences and lives with others.
We are a couple who has decided to start the move to being truly off the grid. Some things have already been accomplished. Soon, we will add the few posts we had on our old blog, which will be completely moving here.
The first few posts should help shed a little light into who we are and some of our ideas. Here in Detroit, its pretty dirty and messy. We've just decided to live clean, carbon free lives.
I have had a great experience as a reader on this great site, and feel lucky to be able to contribute along with great people like Wretha.
More coming shortly!