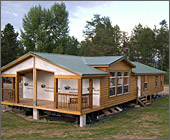 Super Good Cents log home, Idaho . Pioneers living in log cabins were part of American frontier times. Now its part of the new frontier — living a healthy and self-sustaining lifestyle.
The choices available to those wishing to build a log home range from factory pre-cut to handmade on-site. Pre-cut kits are nothing new and have been available since 1923. Most manufactures will allow homeowners to customize their design to make it almost as one-of-a-kind as those handmade on-site.
A plus of log homes is that since most log homes are produced from local renewable wood sources they use much less energy to produce then a "conventional" home and have a reduce environmental impact. The amount of energy and labor needed from the milling to the actual home construction is also reduced. Another saving is that the logs already have a finished surface, in other words placing sheet rock inside or shingles on the outside is not needed nor generally wanted to give the home a finished look. Fewer fasteners are need in the construction, making it both easier and less consuming of mined and processed metal. This means saving money and resources that most other home building types need. At the homes end-life recycling or reusing the material is more inclined to happen because of its valuable timber.
Energy efficiency
The increased energy efficiency of log homes is another plus in view of growing energy cost. While the actual R-value of 7" solid wood walls is R-9 it will actually perform as good as or better than a R-13 insulated stick-frame home in most climates in the U.S. Of course that is with the assumption that attic insulation, windows, design and heating and cooling systems are the same. Log homes can be expected to save 2.5% to over 15% energy over an identical wood-frame home, the climate the log home is located in is the deciding factor in amount saved. The logs of the home act like "thermal batteries" and under the right conditions store heat during the day then gradually release it during the night. This is more pronounced in climates that have large temperature swings from day to evening.
%authorad4%
A drawback to log homes is that they are prone to air leaks. This is mostly due to the fact that the trees absorb large amounts of water during their growth. Since when air dried logs are used to construct a log home they will still have 15% to 20% water during construction. As they finish drying in the ensuing years the logs will shrink, which create gaps and leaks. Using caulk and plastic gaskets to fill these gaps will take care of this problem. Though many manufactures of logs and log homes now kiln dry their logs before the final finishing and shaping of the logs.
Including passive solar heating and cooling into the design of a log home is becoming more common. Just by window placement and orientation you can greatly increase the home's energy efficiency. Adding a masonry wall directly behind the glass or installing a concrete floor are great ways to increase use of passive solar heating in a log home.
The top choices of wood are cedar, spruce, pine, fir, and larch, in order of effectiveness.