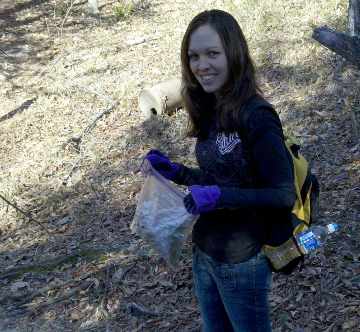 Chassidy Fitkin is learning to be a herbalist. She plans to keep a diary of her education so we can all benefit from it. Here she explains why she started down this road.
"The seed of this idea was blown through my life in the beginning by lack of time. It was like I was in a daze created by the rush of daily "life". Only if your not living it, really why is it called life?
It weighed on me every morning when I was pushing my kids to finish breakfast quickly so we could get to school on time, so that I could, in turn, speed to work- praying I wouldn't get a ticket that I couldn't afford. That thought would snowball into what bills were due & how I could arrange them to be paid on certain days…. This giving you a headache yet?
Welcome to what has become life for so many..including me. Days fly by as I try to hold on to the moments with this amazing family I was blessed with, but I find that more of my time and energy goes toward my job…there's something wrong with that. Not being able to enjoy a their smiles or a walk because we're constantly preparing for the next day.
As these thoughts crowded my mind more and more, something else happened…our family of five started coming down with something, we each had some sort of sickness. It started with an infection from a root canal I had done that ended up bruising the tissues in my face which landed me on two antibiotics, then turned into sinus infections, colds, and a stomach bug running rampid through our family for almost two weeks. At this point I started researching herbal medicine because all the different medicine we "needed" to get better came with it's own 20 side effects.. That breeze blowing the seeds of new ideas turned into a gale force wind. Where all I can think about is being with my family and finding the resources to stop being dependent on a system.
It occurred to me during my research… We could take care of ourselves! Feed ourselves and be our own doctor, starting with a healthier life style that promotes good health. Then I ordered a kit offline to get me started making and understanding herbal remedies and started my research on what herbs can do for us. I was hooked. God had guided me right into a calling I have a true passion for by using my greatest love; my family.
My first project was a recipe for a healing salve. I slow cooked herbs for an hour in olive oil, mixed them with some beeswax, and WaLa! With the smell of herbs cooking through my house and the independent feeling of making a natural "medicine" for my family, my mind was made up that this is the way for us. No preservatives or additives, just healing. I like the way that sounds! On a funny side note, as I was making the healing salve, I burned myself. Ironic? I was straining the herbs and grabbed (with my bare hand) the rag I was using and squeezed…not a good idea. Plus side? The salve works! The burn went right away! One of the herbs in the salve is Calendula. I'll be doing a lot more research on this one as it is thought to have regenerative action on the skin, helping new tissue to grow to heal a wound. An interesting thing I've noticed using the salve that it has a slightly numbing effect, making it great for sunburns.
Happy healing, Chassidy