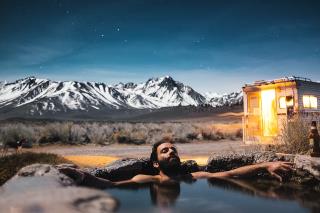 Hot springs offer much-needed peace, quiet and relaxation. The naturally occurring, geothermally heated bliss provided in beautiful surroundings is second to none. Plus, if you don't want to be in a more developed hot spring spa, there are plenty of options to explore off-the-beaten-track . Here are 6 off-grid hot springs you definitely need to visit!
If you want off the beaten track then try:
Located in Lake Mead National Recreation Area, this set of pools is visited by thousands of people per year. A 6 mile round trail takes you up through a dramatic volcanic canyon, south of the Hoover Dam. Volcanic rock and granite boulders litter the landscape and lead you to a spot just downstream of the Ringbolt Rapids. After climbing a 20 foot ladder to access the best springs you can bathe to your heart's content. Directly at the source of the springs the water is the warmest, reaching up to 110°F. The highly mineralized water spews out of the source at approximately 30 gallons per minute! The strenuous hike takes approximately 5 hours to complete (excluding time spent bathing in those beautiful springs) and is closed during the summer months due to it being hazardous because of high temperatures.
Read this couple's experience of trekking and camping in the area. Alternatively, watch this father and son duo take the trail up through the canyon and reach their destination:
These hot springs are rather unique, trading mountainous vistas for a beach front! The warm water seeps up through the sand at the Steep Ravine Beach in Marin County. These springs are quite a phenomenon, only being exposed for a couple of hours a day. Therefore, it is important to consult a Californian Tide Chart and opt for a minus tide, to avoid disappointment. However, due to the very slight window in the day in which the springs can be accessed it can get rather busy! It's worth it though, even just to paddle in these warm waters.
Between the small towns of Salmon and Challis, high up in the desert, lies a chain of six waterfall fed pools. These small but perfectly formed features are accessed by a very up-hill 2 mile hike. The trail offers little shade for respite and the majority of the climb is done in the last quarter of the trek. The pools are a definite reward after that steep incline! Water temperature varies depending on the time of year, so don't dive in (literally) until you've judged the temperature with a hand or foot first! Be warned clothing is optional at the pools, so don't be surprised if you see some not entirely clothed hikers in the area.
For other hot springs in Idaho, check this out.
If you want a bit of luxury, then visit:
This is an off-grid sanctuary, providing a natural digital detox from the very on-grid, tech-loving world. The solar-powered resort is set in the heart of a 1,800 acre nature preserve, and it has its own hot mineral springs. The geothermal water contains 3 ounces of dissolved minerals per gallon and is undiluted, untreated and unheated. This is a true relaxation haven with massage treatments and yoga sessions also available. You can take a day trip, or camping grounds, cabins and a solar lodge are all available, giving the option to extend your stay.
Watch this video to get your first impressions of Wilbur Hot Springs:
Up a winding track a few miles out of Steamboat springs, lies this beautiful off-grid retreat. No big signs point to its location and during the winter only big 4x4s are allowed up dirt road. Alternatively, the springs can be reached via a 3 mile trail through the surrounding national forest. This has a real off-the-beaten-track feel. Several large soaking pools with warm to rather hot waters are available next to a cold creek for some cooling off. During the day the springs are family friendly, however during the evening an optional clothes policy means adults only! The resort is currently working on replacing their solar panels, batteries and controllers to keep their off-grid status.
Watch the video below to get a feel of Strawberry Park Hot Springs:
Last but not least, is the remote forest sanctuary named Breitenbush. In 154 acres of beautiful landscape including a glacier fed river, an ancient forest and mountains on the horizon, sanctuary really is the right word. Three natural pools with smooth river rocks allow you to sit back and take in the beautiful landscape. Temperatures range from warm to very hot, with a cool plunge pool available to cool off. Powered by hydroelectric from the nearby Breitenbush River and heated by the geothermal water, this sanctuary is entirely off-grid. Hiking throughout the surrounding landscape, massage treatments and several "Well-Being" programs are also available.
Have you visited any of these places or been to other hot springs not mentioned? Let us know in the comments below!