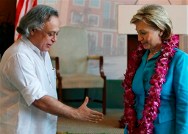 The United States has for the first time accepted responsibility for its contribution to global warming, but her Indian hosts are unlikely to be impressed with the way US Secretary of State Hillary Clinton couched her statement.
In an attempt to encourage developing nations to cut their carbon emissions,  Clinton warned an audience in Mumbai last week not to make the same environmental mistakes the developing world has made.
"We acknowledge – now with President Obama – that we have made mistakes in the United States, and we along with other developed countries have contributed most significantly to the problem that we face with climate change," she said.
India has recently decided to create thousands of off-grid villages as part of a part national plan for electricity to reach all households by 2012. Today, 9% (14,224 MW) of India's power is produced by renewable off-grid sources. The Indian government plans to double that figure by 2012.
Although they don't quite constitute an apology, the remarks are the first time that the US has unambiguously accepted on an international stage its leading role in causing climate change.
According to CNSNews, last April Clinton did tell a gathering of major economies in Washington that the U.S. "is responsible for past emissions" of carbon dioxide (CO2) and other "greenhouse gases" blamed for climate change. And President Obama said at the G8 summit in Italy this month that the U.S. had "sometimes fallen short of meeting our responsibilities," adding, "Those days are over."
Analysts say that such an admission is a political and environmental necessity if countries like India and China are to take action against climate change. Previously they have refused to sign up to binding commitments on the grounds that their per capita emissions are low and necessary for economic development from a very low base.
Throughout Clinton's visit, the Indian government has strongly resisted mandatory restrictions on its greenhouse gas emissions. "India's position is that we are simply not in a position to take on legally-binding emission reduction targets," said Indian environment minister Jairam Ramesh  on Sunday.
"There is simply no case for the pressure that we – who have among the lowest emissions per capita – face to actually reduce emissions," Ramesh  told Clinton.
"And as if this pressure was not enough, we also face the threat of carbon tariffs on our exports to countries such as yours," he said, referring to the Waxman-Markey cap-and-trade bill passed by the U.S. House of Representatives late last month. The bill would impose tariffs on imports from countries that do not reduce emissions by 2020.
But one of the main reasons President Bush gave for rejecting the Kyoto protocol was the fact it did not set emission reduction targets for developing countries, even those such as China and India that are major CO2 producers. Bush supported by John Howard of Australia argued that unless China and India curbed the rapid growth of their emissions, efforts to do so by leading developed nations would have little effect.
Clinton reprised that argument this weekend. "There is no question that developed countries like mine must lead on this issue," she said in a joint media appearance with Ramesh. "For our part, under President Obama, we are not only acknowledging our contributions to greenhouse gas emissions and climate change, we are taking steps to reverse its ill effects."
But she said "it is essential for major developing countries like India to also lead, because over 80 percent of the growth in future emissions will be from developing countries."
Clinton described China as "the largest emitter in the world and certainly the largest among developing countries," and said that India has to control its pollution if the world is to stand any chance of dealing with global warming.  "India's own greenhouse gas pollution is projected to grow by about 50 percent between now and 2030. So, climate change would not be solved even if developed countries stopped emitting greenhouse gas emissions today, unless action is taken across the world."