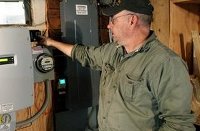 Gary Lavalette is saving $3500 a year in heating and electricity costs since he installed renewable energy.  At this rate his investment will have paid for itself by 2018. From then on his heat and light are nearly free….forever.
Over the past four to five years, the Massachusetts plumber made the switch from traditional to alternative energy sources in a series of steps including solar hot water, photovoltaic panels and a wood gasification unit in the backyard.
The result?
When it comes to heat, hot water and electrical power, the Lavalettes — Gary, Nancy and their two children, Kristy and Robert — no longer rely on utility companies.
He installed a wood gasification system in 2005. Two years after that, he installed solar tubing to heat his hot water and, this year, photovoltaic solar panels to provide electricity were placed on the family's roof.
In addition to home energy, the Lavalettes have taken their green philosophy on the road with them. The Ford Fusion they own is the family's third hybrid vehicle and for business use, Lavalette drives a fuel-flex diesel truck which runs on diesel or biofuel, including corn oil or fryolator waste products.
Once they began implementing new systems, part of the fun was in checking off expenses.
One of the first to go was the family's winter heating bill, which dropped from more than $2,000 per season to about $100 when the wood gasification system was installed. The outdoor unit creates heat by cooking wood at high temperatures to produce gas.
Filled every two to three days with wood, Lavalette said it takes about 7 to 8 cords a year and is the family's primary source of heat and hot water during the cold season. Wood, however, isn't counted as an expense, he said, because he and his wife had already established a side venture where they cut down sick trees or clean up brush in exchange for free wood.
The next installation, solar tubes, heats 80 gallons of water for two days, according to Lavalette.
"Cost on daily usage is around $8 per month," he said.
Finally, the 5,200 watt solar system, which consists of 24 panels installed on the family's south-facing roof, has in their first full month of operation reduced the family's electric bill from more than $160 to $35, he said.
Having multiple systems and getting them to interact smoothly has been something that Lavalette perfected over time.
For example, on a cloudy day when electrical power from the solar panels has been exhausted, it's important that the house has a backup power source. For that reason, power can be switched from solar panels to solar tubing (for hot water) or to on-grid sources of electricity or oil heat.
"Every system has a backup," he said.
Reinvesting his savings into the home was also key.
Each time he reduced energy costs, Lavalette said he invested the money into the next alternative. "Instead of spending the money we saved, I said I'm going to invest in myself," he said.
A tinkerer at heart, Lavalette likely won't stop streamlining energy use. In addition to the systems he's installed, he has rigged his own solar tubes using excess heat in the garage to warm the family pool, has built a small hydrogen fuel cell in his basement, and is considering future options like gray water, a system that reuses dirty water from showers or washing machines.
But he doesn't believe most families need to get this complicated in order to positively impact their energy use and expenses. Simple techniques, such as programming thermostats, can have substantial impacts, he said.
In his own home, for example, switching on the bathroom fan turns the water heater on and in a few minutes, provides enough hot water for a quick shower. A similar switch can be flipped for other hot water needs like washing dishes.
It just takes planning, he said.
While the rest of the family agrees, they also say it takes time to change your routines. Having to know which power source to use in order to wash dishes after dinner took some adjusting, Nancy Lavalette said.
"I feel it's complicated and he says its simple, you just turn this and you're golden," she said, motioning with her hands.
Making a significant financial investment also is needed.
In total, Lavalette estimates the family's overall price tag has been about $80,000. But, he emphasized, about $45,000 of that has been returned to him through rebates and tax credits.
The rest, he said, will be recouped through savings, some of which may take longer than others.
That's OK, he said.
"I invested it for the long term. Energy is not something that is cheap to do. It could take years (to make the investment back) but, at the same time, you're creating your own destiny."