More than half of energy-rich state's total power generation capacity remains offline
The electric grid, which is designed to enable energy trading rather than protecting domestic consumers, has collapsed in Texas due to extreme winter weather.  The same thing could easily happen elsewhere in America.
Houston's mayor Sylvester Turner, a Democrat, wrote on Twitter: "The city does not control the Texas power grid. We do not oversee Ercot which manages and serves as the traffic cop for the electric grid. That is the governor and the State of Texas."
Hundreds of thousands of lives have been disrupted as energy prices spiked 100 times due to surging demand for heating in the extreme conditions. Many are reduced to melting snow to provide drinking water.
For residents of the Lone Star State, the problem stems from both a record spike in demand in a place that rarely gets this cold, as well as an unexpected drop in the supply of energy from natural gas, coal, wind, nuclear, and solar sources iced up by sleet and wind. This is coupled with the arcane power management setup in Texas – similar to other States.
Amid a backlash from angry Texans, Republican governor Greg Abbott called on the state's legislature to investigate and reform Ercot. "The Electric Reliability Council of Texas has been anything but reliable over the past 48 hours," Abbott said. While the Texas power grid has proven largely capable of handling demand peaks during the state's sweltering summers, the electricity supply system has been crippled by some of the coldest weather the state has experienced in decades. Wholesale electricity prices have hovered around Ercot's price cap of $9,000 a megawatt-hour for days because of the supply shortages, far above typical prices of about $25/MWh. That has the potential to put immense strain on energy suppliers forced to buy at the astronomical prices.
US natural gas prices surged as much as 10 per cent on Tuesday to about $3.15 a million British thermal units, its highest level since October. Prices at one Oklahoma pricing hub, where supplies were extremely tight, soared from about $3 an MBtu to almost $1,000 an MBtu. The freezing temperatures and sustained power outages have also disrupted the state's oil industry, the largest in the country. Producers in Texas's Permian oilfield, one of the world's most prolific, face days of disruptions as pipelines and other equipment freeze up and icy road conditions delay repairs.
Though the number of customers in the dark had dropped by 25 percent in Texas on Tuesday, nearly 3.2 million customers remained without electricity early Tuesday evening, according to PowerOutage.us. That's about 1 million customers fewer than at the peak of the blackouts, but still represents more than a quarter of the Lone Star State.
Meanwhile, about 11,000 customers were without power in Oklahoma, primarily around the Oklahoma City metro area, with 120,000 out in Louisiana and Mississippi. Significant outages were reported from heavy icing in Kentucky, West Virginia and Virginia, where about 270,000 customers were without service.
Texans were struggling, most in houses not built to retain heat. In Austin, Matthew Micik had gone 24 hours without power, the temperature in his house below 35F (1.6C). After finding a hotel room in nearby San Marcos, he drove through ice and sleet only to find most of that town had lost power too. He spent the night in his car.
From Galveston, Jessica Knofla said: "Basically, everyone who lives here had no warning and is stuck on a blacked-out island with no major stores open and no lights on the road. It's absolutely infuriating and I'm fucking pissed."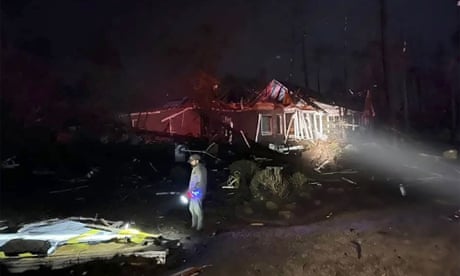 At least three people killed after tornado hits overnight in North Carolina
Officials in Texas have faced criticism as the state energy grid repeatedly failed, forcing rolling blackouts. As utilities attempted to restore power to homes that lacked it while offices in downtown Houston remained lit up, the Harris county judge Lina Hidalgo, the top elected official in the city, told the Guardian: "History is going to remember who did their part and who didn't."
Many did not have water because of frozen or burst pipes. Kelsey Muñoz, an intensive care nurse in Dallas, said: "Currently, I have power and I'm hoping I am not jinxing myself by saying that. However, for water I've had to gather snow and melt it. Never thought I had to do that in Texas."
The blackouts forced Harris county to scramble to get more than 8,000 doses of Moderna's coronavirus vaccine into people's arms, after the county public health facility lost power and its back-up generator also failed. Officials distributed the doses at three hospitals, Rice University and the county jail. Hidalgo said she didn't believe any vaccines were lost.
For more stories from off-grid.net search here
Our Our fastest solar ovenBake, roast or steam a meal for two people in minutes, reaching up to 550°F (290°C). GoSun Sport sets the bar for portable solar stoves.
Buy our book - OFF THE GRID - a tour of American off-grid places and people written by Nick Rosen, editor of the off-grid.net web site