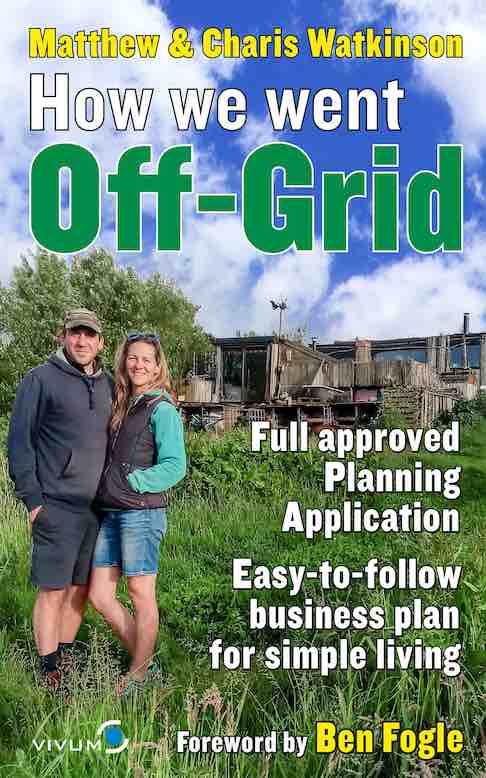 Hi – this is the page for our new book, which tells you exactly how to get yourself a warm comfortable home, and a 3-acre market garden for under £50,000, in Wales and certain other parts of the UK. Please contact us with any questions – news@off-grid.net
For those who already have the book – you can download the Objections Appendix here, and you should already have the password stated in the book.
PRESS RELEASE
HOW WE WENT OFF GRID deserves a place on any "Energy Crisis bookshelf" – pub date Sept 15th 2022 – written by a couple who appeared in two episodes of NEW LIVES IN THE WILD (C5). Stuffed with technical detail on how to survive the coming downturn, and a passionate description of a planning battle against NIMBYs to build their eco-house in Pembrokeshire National Park.
The authors live by the maxim that "growing your own food is like printing your own money," and the book is a technical/business manual about how to legally get a home for under £50,000, that is warm and heated with a large market garden.
The cover line"Easy-to-follow business plan for simple living." shows how you can turn that garden into a business. Some of your readers/viewers/listeners may have dreamed of cashing in the house, but others may only have £20,000 to spare. This business plan is scalable, from the 3 acres that the Watkinsons bought, up to 30 acres if a larger group wanted to live this way.
About half the book is taken up by the planning application – a huge amount of work, and a high bar to cross if you are just two people without an expensive planning consultant..
Very unusually, Chapter 2 is by the planning officer who granted the permission, detailing how she was victimised at work because of her support for eco-development in a National park.
Chapter 5 is a blow by blow account of the locals' "Objection campaign" opposing permission.
MORE INFO FROM news@off-grid.net